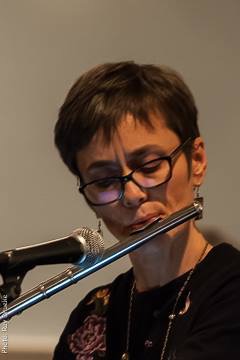 Music has always been a part of my life. My mother was an accomplished coloratura soprano, giving recitals that I attended when I was a child. Later, she broadened her singing to include night club performances, sinking her teeth in some light jazz and show tunes. I am the youngest of six and the only one to pursue music as a career. And like my mother, I am not locked in to any one style of playing. 





I've had the great privilege to work with some of the greatest classical flute players of the 20th and 21st centuries: Jean Pierre Rampal, Julius Baker (New York Philharmonic), Mindy Kaufmann (New York Philharmonic), Carol 

Wincenc,

 Lois Schaeffer (Boston Symphony Orchestra), Michael Hasel (Berlin Philharmonic), and Donald Peck (Chicago Symphony). My performing has taken me throughout Europe and much of the east and west coasts on the United States, as well as two tours to Puerto Rico.





My orchestral and chamber work includes the New Bedford Symphony (MA); the Augusta Symphony and Augusta Opera orchestras, and Musica Antiqua (GA); the Eugene Symphony and Opera orchestras, the Oregon Mozart Players, the Oregon Festival of American Music Orchestra, the University Orchestra, 

and

 the Oregon Chamber Players; and

Spencer Beauties

flute duo with continuo (Eugene, OR).





My trips outside the classical world include the

Augusta Symphony Bluegrass Band

,

Carl and LeeAnn Folk Duo

(GA); and 

Kendálin, 

a world folk fusion ensemble (OR) (cd available on iTunes or at

www.kendalin.com

).

Presently I am performing with the Red Lantern Ensemble a small chamber group presenting a wide variety of music and ensemble types;  and Thousand Waves, an ensemble presenting a variety of styles of music from jazz to tangos, renaissance to modern, Japanese to Irish, and much more. The group consists of various combinations of flute, classical guitar (Peter Zisa), Japanese koto (Yukiko), and percussion. 

So much fun... I love what I do!